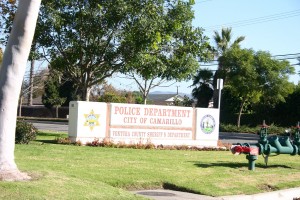 The Camarillo Police Department is part of the Ventura County Sheriff Department.  The community is known for being a positive place to work and because of this we get many of the finest officers in the department working here in our area.  Thank you to all the full-time officers and to the many volunteers who make the Camarillo Police Department so great.  If you ever need assistance from the department just reach out to them and they will respond.
Key Information:
For Emergency Call : 9-1-1
For Non-emergency Call: 805-388-5100
Website for police: http://www.vcsd.org/sub-camarillo.php
Email for Camarillo Police: camarillo.police@ventura.org
Address: 3701 East Las Posas Road
Camarillo, CA 93010
Below is a description taken from the official website of the Camarillo Police Department
Law enforcement services for the City of Camarillo have been provided on a contract basis by the Ventura County Sheriff's Department since the city's incorporation in 1964. At that time the city encompassed approximately 5.5 square miles and had just under 10,000 residents. During the first years of service, patrol officers worked out of the Sheriff's main station in Ventura. The first Camarillo police station opened in June 1966 in the elementary school facility located near the intersection of Ventura Boulevard and Elm Street. A nine-man police force worked out of the elementary school until 1977 when the Department was moved to the former City Hall building on Palm Drive. The officers patrolled the city on a 24-hour basis in two 1-person patrol cars.
In 1995, the Camarillo Police Department moved to its current location at 3701 E. Las Posas Road. The City now encompasses a little over 19 square miles, has a population of more than 61,500, and has a sworn force of 49. Besides patrol officers, the Police Department has a youth officer, three school resource officers, a crime prevention officer, seven traffic officers, six detectives and five special enforcement deputies (SED).
The Camarillo Station is also home to the deputies that patrol the unincorporated areas in and around Camarillo. The twenty-one sworn members assigned to the County area are responsible for responding to calls for service in a 136 square mile area, from Somis to Malibu. These deputies, when driving to and from their patrol area, provide additional resources to the City of Camarillo.