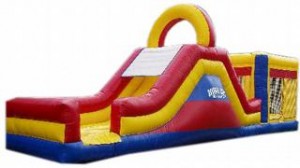 One great resource for keeping the children entertained is over at Jolly Jumps at 840 Avenida Acaso, Camarillo, CA 93012.
Jolly Jumps has options to rent you a Jolly Jump for your own party, you can have a party hosted at their place, or you can take advantage of their open jump times.  Although it seems as though you'll find your children crying at some point in the visit (isn't that how it always goes when parents try to plan something cool to do), overall most will have a wonderful time and you will not only get a few minutes of assistance during
the visit to Jolly Jump but you will also likely have an easier evening as your children will be worn out and ready for bed.  Always a good thing!!
Open Jump Schedule
Available on Monday & Thursday
Morning Open Jump is: 10:00 am – 11:30 am
Admission is $7.00 per participant
Parent and/or Guardian MUST be present
Socks are required for ALL participants
Open Jump is Great for any occasion; Mom's Club, playdates, youth groups, and more.
There are NO Birthday parties allowed during Open Jump.
Contact Information:
Jolly Jumps
840 Avenida Acaso
Camarillo, Ca. 93012
Ph. (805) 484-8338
Fax (805) 389-1858
http://www.jollyjumps.com